Dalton's warning: Spithill needs to keep 'his gob shut'
Author

Section

Publish Date

Wednesday, 14 March 2018, 10:38AM
Grant Dalton shakes hands with Luna Rossa helmsman James Spithill after the final race of the Louis Vuitton Cup 2007. (Photo \ Photosport)
Team New Zealand boss Grant Dalton hasn't minced his words when reacting to Luna Rossa's decision to hire former Team USA skipper Jimmy Spithill for the next America's Cup campaign.
Spithill is joining the Challenger of Record having led Oracle to Cup victories in 2010 and 2013, before the loss to Team New Zealand in Bermuda.
READ MORE:
Jimmy Spithill leaves Oracle and joins Luna Rossa
Peter Lester: Spithill's shift spells the end of Oracle USA
Dalton says Luna Rossa told him of the development six weeks ago and he believes the relationship between them won't falter providing Spithill keeps his gob shut.
"The relationship between us and them won't falter via that he keeps his gob shut basically! But I think they will have that in control," Dalton told Radio Sport.
"We have a really strong relationship with Luna Rossa and it goes back in history now, and particularly now with them as challenger of record for the next Cup, that relationship has only got stronger."
Jimmy Spithill was the former Oracle Team USA skipper. (Photo / Getty Images)
Dalton has also confirmed a fourth challenger has entered the next America's Cup but he won't reveal who that syndicate who will join a British, American and Challenger of Record Luna Rossa.
He says he can't put a number on how many entries they will receive.
"The one in particular who just entered in the last couple of days, they want to be in charge of their own announcement. I don't want to speculate because then people try to put names to that number."
In light of Spithill's move, Oracle's potential to compete in the 2021 regatta has become increasingly unlikely.
Yachting commentator Peter Lester said that Spithill's decision to jump ship has "significantly singled the end of Oracle".
"It really signals the end of Oracle for this next America's Cup," Lester said.
"It's been pretty well flagged out there that Oracle will not be back, but with Spithill walking and changing teams, I'd say that that's the end of Oracle."
However, Lester said Spithill, along with his extensive America's Cup knowledge, would be a good asset to the Italian syndicate.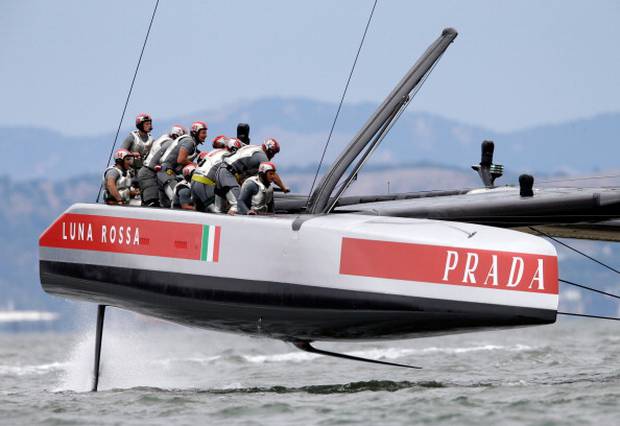 Peter Lester believes Jimmy Spithill would be a good addition to Luna Rossa. (Photo / Getty Images)
"I think he brings a lot to the table," Lester said.
"I think it's a good signing by Luna Rossa because you're buying in a hell of a lot of knowledge in terms of how the America's Cup game is played."
"Luna Rossa are looking pretty strong in terms of people."